Taming the toy clutter when you have a three-year-old is no joke. I've been wondering if toy organization was even a real thing. I remember when P was first born and people would tell me "oh, babies don't need anything except for milk and diapers." Sure that's true – but if you want to survive and maybe even get a little sleep you pull out all of the stops and go for the swing, and the jumper, and the playmat thing. Then they get a little older and you want to "stimulate" them so you buy the ball thrower thing, the little car or horse or whatever they can ride, and my personal favorite all the makers of noise (WHYYYY). Before you know it you have a legit house full of baby stuff and toys. Anyone with me?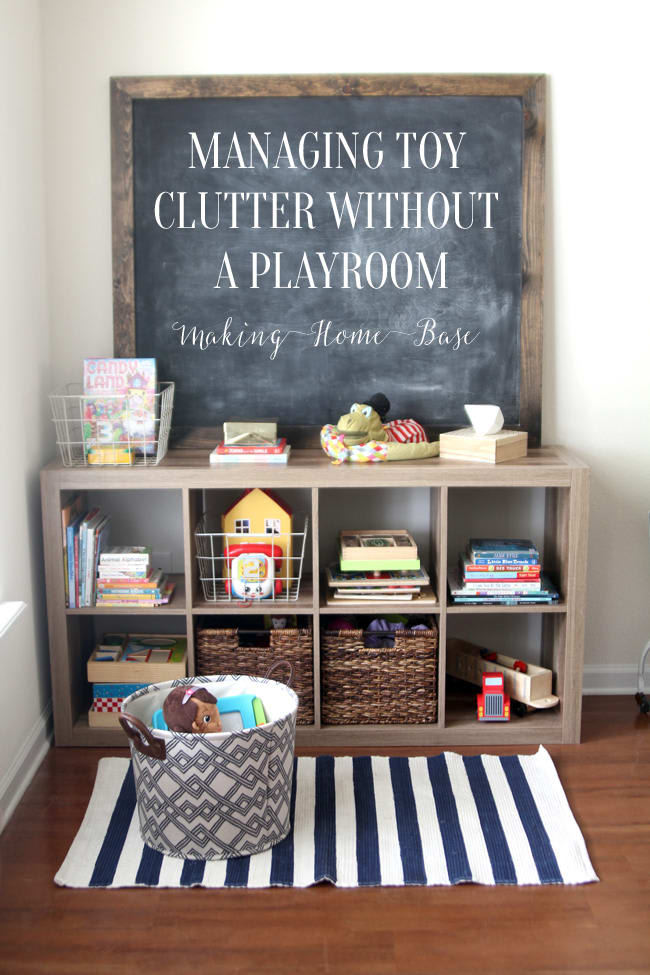 Luckily, we've got ample storage space for all of the baby stuff we've saved and I'm really good about going through the toys that become dust collectors and retiring them to storage. The thing is, without a proper playroom, and without proper organization, my living room gets taken over with toys. In our old house, we had a small alcove underneath the stairs that was the perfect hideaway for all the toys. We put a cubby under there and all of the toys (except the giant circus tent – yeah…) were perfectly hidden from view when you stepped inside our house. Now, they weren't necessarily organized but they were out of sight. This house doesn't have that kind of hideaway so I needed to come up with something easy on the eyes as well as functional for toy organization.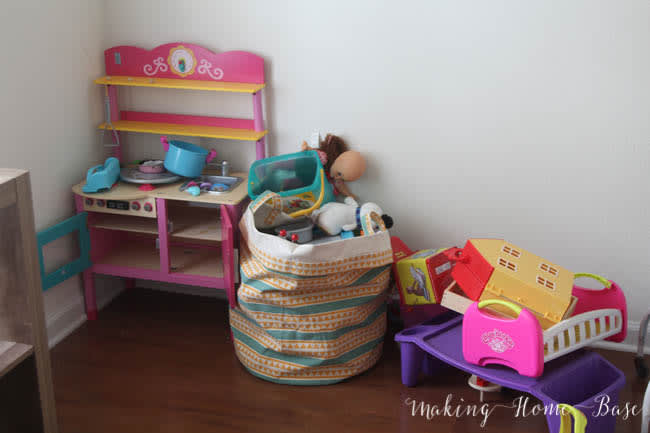 Since we've moved in the play area has looked like this. Oh yeah – that storage bag is full to the brim. Sadly, this isn't even half of it. I broke down and put some toys in her room so we could feel as though it was a living room and not a toddler's pink palace.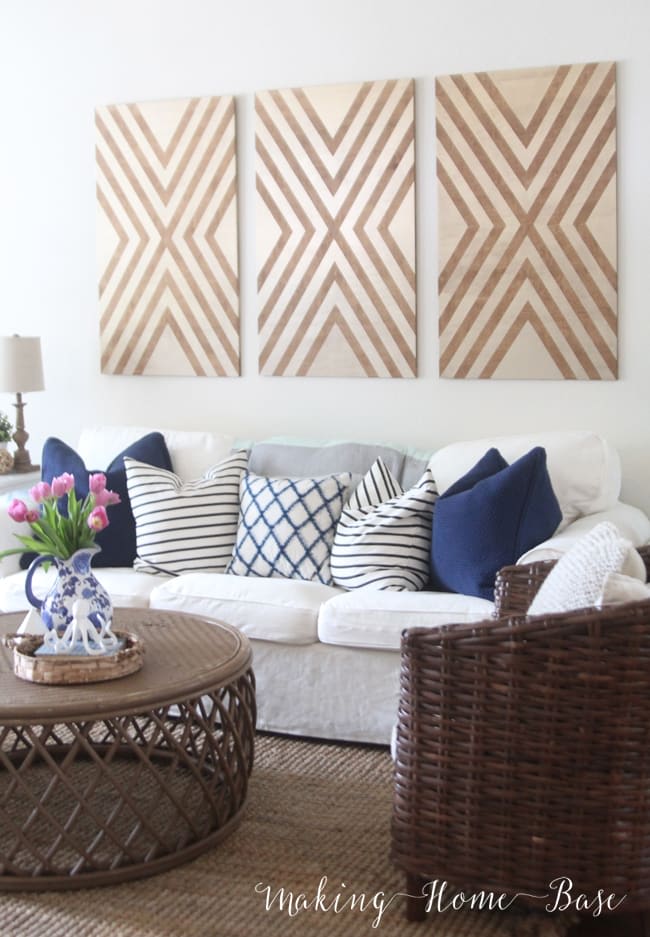 Yesterday I shared my summer home tour, and you can't quite see the play corner of this space but on the other side of that side table on the left is where the chaos begins. It's right in our living area.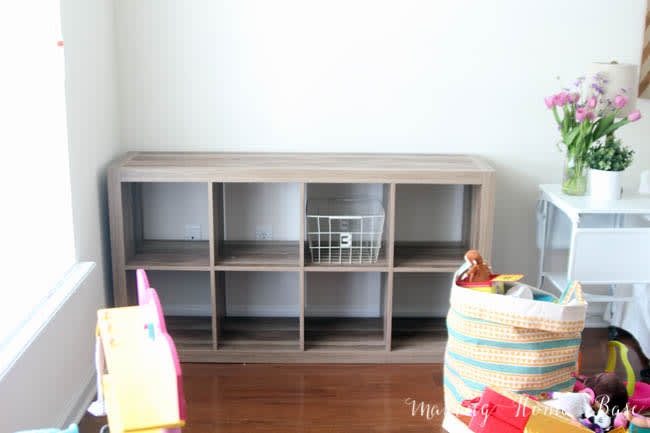 As soon as we moved in to begin hunting for the perfect toy storage space for our living room. I love this 8 cube organizer I found at Walmart. I scoped it out online and picked it up in our store. I love the weathered wood finish but it comes in multiple other finishes. It fits perfectly in this corner of our living room keeping the toys corralled.
This new cube system houses all of the toys that are most played with within our home. Puzzles, books, Doc McStuffins, play food, etc. I added a handful of baskets to stash the smaller toys (similar baskets here and here). Then, place the puzzles and wooden sets, along with the books on the shelves. You'll see the play kitchen has been relocated to the closet to be brought out when we want to play with it. It's so nice now that everything seems to have a home instead of digging through the depths of that storage bag for the smallest dinosaur figurine.

Chalkboard DIY
These wooden boxes house all of her craft supplies. I love how it's disguised as a decorative accessory.
Overall, I can't be happier. This space was cleaned up so nicely all because of a simple piece of furniture. I love that we can feel as though the space is family-friendly without being completely overrun by toys.